Previous – Her Seventh Letter to Kate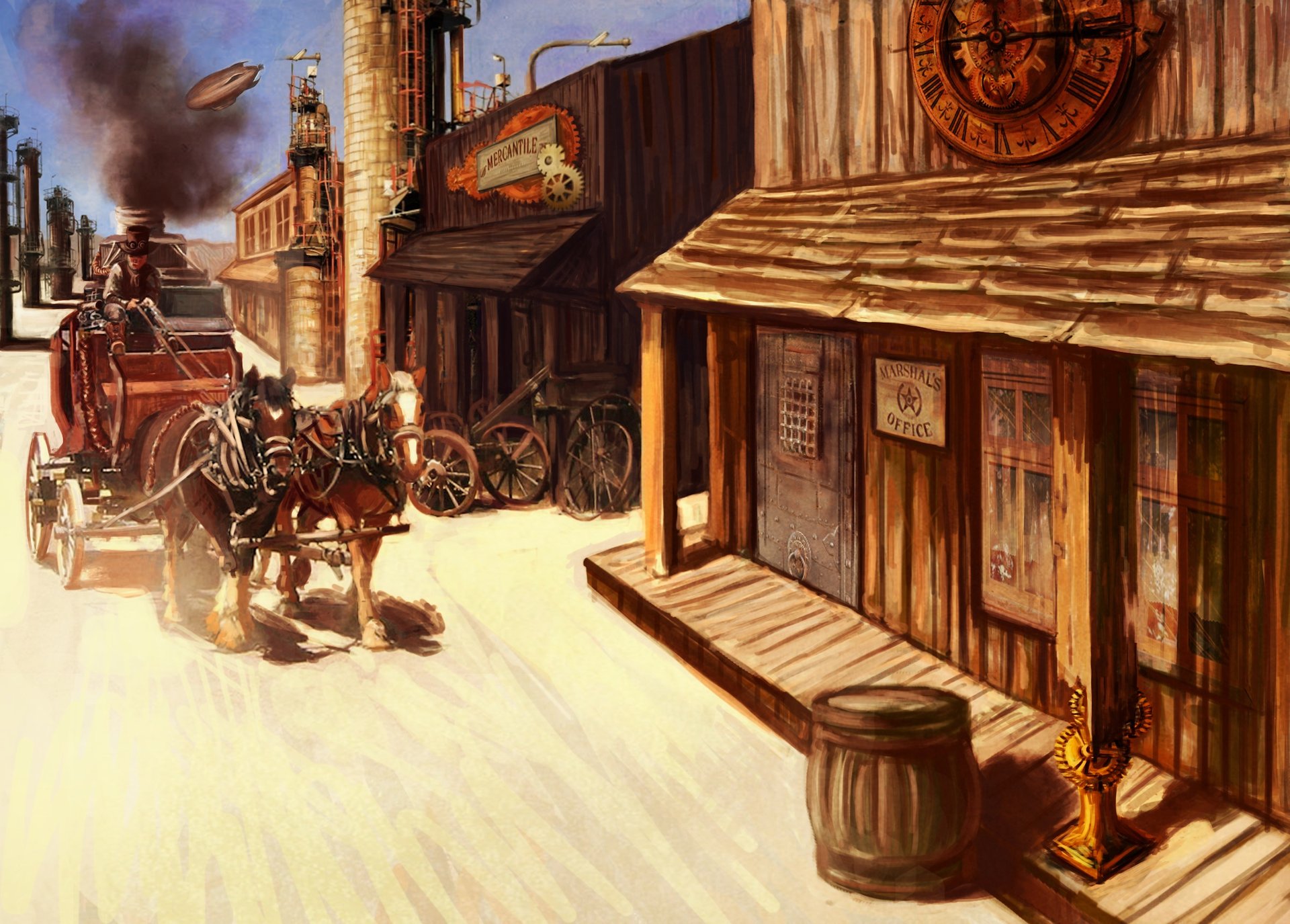 Dear Kate,
It is my second day on the train and so much has happened. I hope that you continue blissfully well, that Everett is equally well (but not any more so than you), and that my uncle's birthday has passed happily. Please give him my best wishes. On that note, have you spoken with my father at all? I am sad to have left England without hearing from him, and I am impatient to arrive in Kingstowne and to have any letters forwarded to me.
The first thing I noticed when I set foot on this new continent was that even the way buildings and streets were laid out gave an impression of an abundance of space, and that the attire of its folk gave an impression of boundless fashions. When I saw a woman in pants I realized – I can wear anything that I want here, and people will hardly look twice.
Neither did they look twice at the murmuring cats who crossed my path, or the funny cloud that was hanging low over a house of questionable reputation. It was pink as cotton candy. So you see my first anomalies have been benign, even if one cat did send me a withering look, and the only noticeable change in the physics is how easily a hop can become a jump. I was emboldened by the surrounding strangeness when I slipped into my first New British shop; however, I do not for one moment regret my purchases.
For I will be engaged in many rough and tumble things. I was remiss in explaining exactly how I will be employed, my vagueness partly out of habit from concealing gruesome details from Irene and my mother. I will ride about on survey, watching for landslides and fissures, approving (or disapproving) any new buildings or industry as per the Kingstowne Charter and basic prudence, planning for the future stability of the area, and helping to bring any remarkable students to the government's notice. Thankfully I shall have a staff to help me in doing all of this, though I don't know of how many and of what quality. The District Official is supposed to be someone "of irreproachable education and manners", but I have no notion of the exigencies for an Official's employees.
Anyway, after the talking cats and some reflection, I didn't think skirts were right for the job. Besides, we wore much what your brothers did when caught toads and played dolls all in the same afternoons.
Yes, I bought pants. Pants! Don't tell anyone, for fear of it getting back to Irene, as she will be sure to tell my mother, and I couldn't bear all the discombobulation that would follow at my posterior being outlined for the public's view. To be honest, I am rather proud of my posterior. Up top, Alexandra has always made me feel very small – maybe that is why Edward danced with her.
No, nothing about him. To go on, I also bought some plain but sweet linen shirts (I plan to embroider the cuffs), ones heavy enough to conceal my underthings, and the most magnificent leather trench to ward off the dust. The man in the shop got all strained and funny-looking when I said I wanted it. It makes me look like a pirate, Kate! I actually have to try not to swagger when I wear it.
I'm going to dinner now, and shall write more after.
…
Hah, I fancy a few people did look askance when I came into the dining car but I don't care, I tell you! I am a stranger here. The Conductor had described another District Official to me, and I found the man (who is from Denver) by his cow boy hat and his large boots. He also wore a gleaming, ticking device upon his wrist. I wonder that the Conductor did not distinguish him by the device rather than all else together. Mayhap she didn't know what to call it. He sat alone so I went up very boldly, and inclined my head, and said I hoped he would pardon me but I was on my way to be a new Official, and I should like to eat with him if it wouldn't be a disturbance.
"A new one, eh? And a young lady at that, by jove. Good choice of coat. Sit down, sit down." He had a very craggy face, and it got more jumbled as he smiled.
I was so pleased when he said that about the coat. And seeing how he was dressed, with weathered pants, a heavy vest, and great leather gloves set down by his plate, I was reassured in my own selections.
We talked about all manner of things. I told him that I was an MA in Geography, but that I had dabbled in many other subjects along the way, and when I said I was from the University of Bloomsbury he seemed rather impressed. He himself went to the University of New York for a BSc in Biology, specializing in mountain vegetation. He told me that he has been one of two Officials in Denver (it is a big place), for over twenty years. From him I heard all sorts of interesting and daunting stories about the work. He also saw my curiosity at his wrist device, and he explained it in detail; it is both a time-keeper and a compass, a marvel of gears and glass and little swivelling arrows. I covet it.
Kingstowne will be different from Denver in a thousand ways, but still I feel that I have a better idea of what I can look forward to. I shall only be on the train for one more day so I will try to talk to this District Official, Mr. Faulken, as much as I can before this leg of the journey is done.
Yours always,
Georgia
P.S. How is the weather in England? How are the flowers blooming in York? Does Everett bring you bouquets? At a word from you, I will hogtie him if he doesn't (I am sure I will learn how to hogtie).